Heads of International Offices of the UP Faculty of Tourism Studies Turistica, mag. Nataša Gržinić, and UP Faculty of Health Sciences, Andreja Brecelj, carried out an Erasmus + exchange between 17 and 23 May 2022 with the aim of training at The University of Queensland (Brisbane, Australia).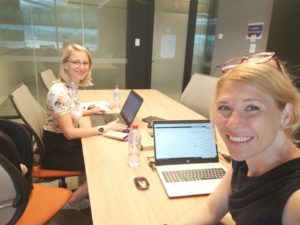 During the visit, the colleagues learned about the educational and research environment of UQ and gained a better insight and understanding of their approach to internationalization, including global engagement, internationalization strategy, and student and staff mobility. In five days, they met with various representatives of UQ active in the fields of internationalization, practical training, career counseling and entrepreneurial guidance, as well as representatives of faculties or departments of tourism and health sciences.
Invaluable experience, new knowledge and examples of good practices that they gained during their exchange are important for the University of Primorska and its members in meeting the objectives of the UP mid-term Strategy. The University of Primorska strives towards strengthening its cooperation with the University of Queensland in other fields of study and research at UP.
UQ, a university with more than a century of tradition, is ranked 51st on the Shanghai rankings and is one of the leading research and teaching institutions in Australia. The cooperation with UQ was initiated by UP FTŠ Turistica, which established a strong collaboration among the researchers prof. dr. Sara Dolničar and assoc. prof. dr. Emil Juvan.